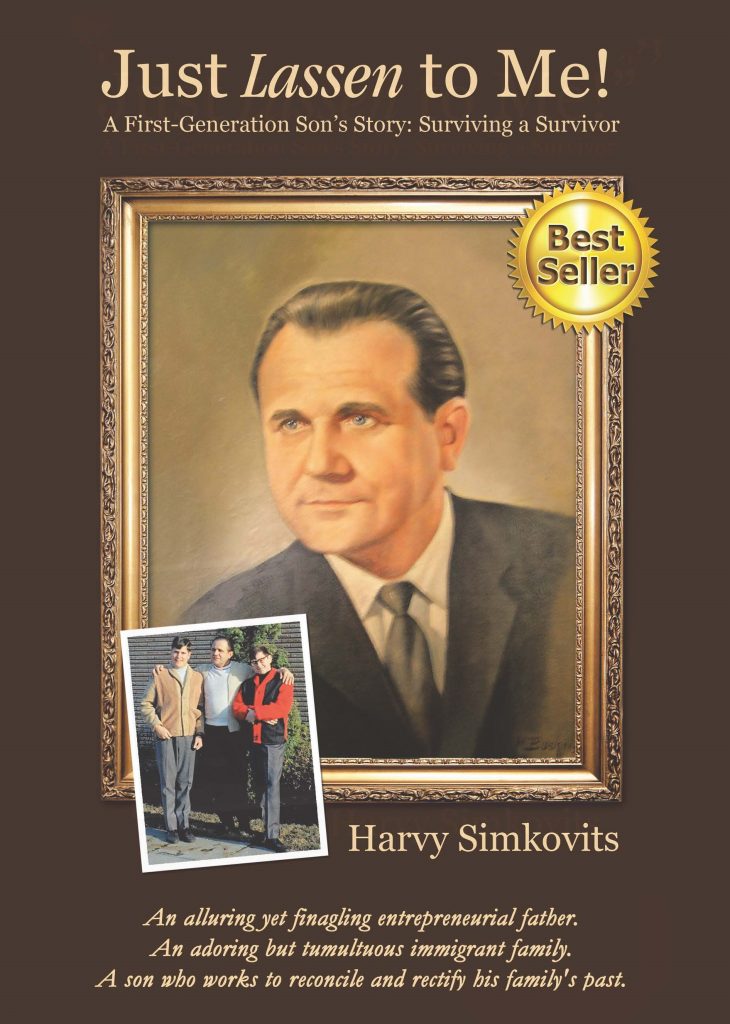 Just Lassen to Me! – Book One: Survivor Indoctrination
Is it possible to admire a man's accomplishments but abhor what he stands for, to seek his blessing but spurn his legacy? What if that man is your father?
John Simkovits, a native of Czechoslovakia, survived the ravages of WWII before immigrating to Canada to escape the onset of Soviet Communism. Over the next thirty years, he grew his business and real estate empire through corporate double-dealing, devious tax-evading, and offshore money-hiding—flitting from one tax dodge and haven to the next.
Johnny groomed his second son, Harvy, to be the heir of his fortune, enticing him into a world of questionable business deals and backroom chicanery. Unlike his religious brother and embittered mother, Harvy was drawn to his patriarch's shrewd business savvy and listened to his fatherly advice, which often began with "Just Lassen [Listen] to Me!"
As the years progressed, Harvy, an MIT graduate and Harvard Business dropout, was drawn deeper into his dad's deceits. Over three decades, he watched, waited and unwittingly partook in his father's illicit cash-making schemes and money hiding shenanigans.
Harvy faced hard choices and underwent shattering life changes to reconcile, repudiate, and rectify his dad's dubious legacy. Written with honesty, humour, and humility, this is a second son's story of surviving his tumultuous family and survivor father.
A thoughtful consideration of the limits of familial loyalty.  ~ Kirkus Review
---
Just Lassen to Me! – Book Two: Survivor Teachings
The Johnny Simkovits saga continues in this no holds barred second volume of Just Lassen to Me. Johnny's second son, Harvy, continues to get immersed in his father's business shenanigans and enmeshed in his offshore money chicanery. We learn how Johnny, having to overcome unscrupulous bosses and crooked partners, got started as a businessman in Canada. As his business grows, the seemingly masterful Johnny gets caught by the authorities for creative but illicit company accounting devices. A big-city lawyer and a made-up money story help him to elude criminal charges. More family strife works to darken the marriage of Harvy's parents. A second separation rips the family apart.
Harvy tries to distance himself from his parents' conflicts by focusing on college, accumulating degrees, and finding a job outside the family business. Though he resides hundreds of miles away, he gets dragged back into his father's appalling mischief. The weight of it all comes crashing down while Harvy attends Harvard Business School. But a stunning epiphany pivots him back to face his family and ameliorate his dad's shady dealings.
Will Harvy be able to help his mother, father, and brother heal bitter wounds that have built up for over a generation, or will Johnny's deceptions and deceit get the better of all of them?
An emotionally astute sequel.  ~ Kirkus Review
---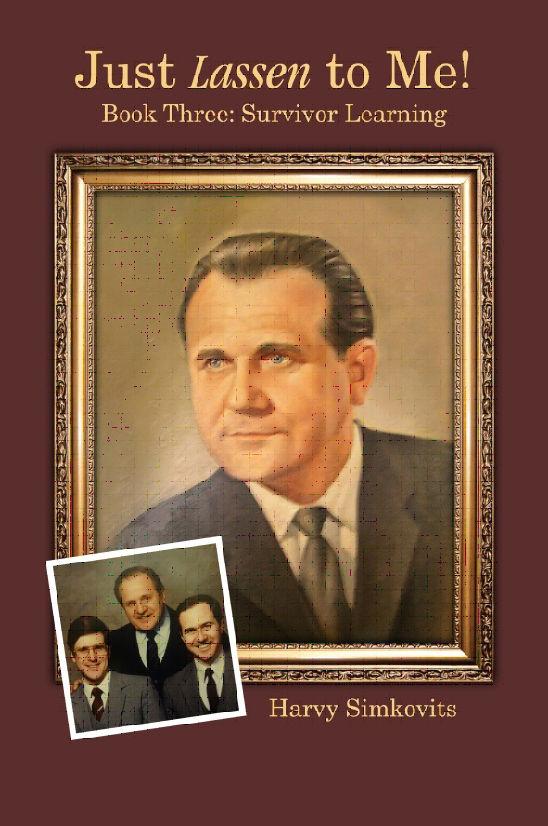 Just Lassen to Me! – Book Three: Survivor Learning
Is it possible to admire a man's accomplishments but abhor what he stands for, to obtain his blessing but also to spurn his legacy? What if that man is your father?
Is it possible to wish for a woman's love but loathe her controlling nature, to desire a good life for her but avoid being dragged into her troubles? What if that woman is your mother?
Is it possible to be close to a fellow you have grown to distrust, to want to be honest with him but risk him turning your disclosures against you? What if the guy is your brother?
This third volume will bring more twists, turns, and tumult in Harvy's relationship with his finagling entrepreneurial father and afflicted immigrant family. New players will attempt to help heal the family and quiet the commotion. Inroads will be fashioned, but will such efforts provide success and security for the Simkovits clan? Will Johnny clean up his ways, becoming an upstanding husband, father, and businessman? Or will the family suffer more losses through Johnny's unashamed shenanigans, hurtful ways, and blatant trickery? You might guess the answer!
---
Just Lassen to Me! – Book Four: Survivor Surviving
(coming in the summer of 2020)
Volume Four of Just Lassen to Me! brings the culmination of the Johnny Simkovits and sons saga. We learn how Harvy survives his father's furtive finances and his brother's bold-faced brashness.
More twists and turns, ups and downs, and ins and outs will emerge regarding Johnny's legacy, both onshore and offshore. See what happens as the family monarch slowly loses his faculties after surviving a serious hit to his health. Watch as Johnny undergoes a falling out with his third wife, and how he mismanages his money over the waning years of his life. Can his sons reign in, mitigate, and overcome their father's flagrant falls and foolish failures?
Both soft landings and hard endings will culminate with Harvy's stepmother, half-sister, uncle, and brother. Experience the conclusion of Dad's straying with sordid people, and the disposition of his legitimate holdings and clandestine empire. Most importantly, will Harvy be able to put his Dad's distasteful dealings behind him, transcend his father's legacy and family history, and come into his rightful own as a son of Johnny?